Written for https://worldcrutches.com/
Worldwide, people with this medical condition ask themselves, "will crutches help my fibromyalgia?" The short answer is that yes. Crutches are a treatment option that actually manages mobility issues. Continue reading if you would like to find out more about what caused it, and the treatment option. Additionally, keep reading if you want to know more about crutches as a treatment.
Table of Contents
Will Crutches Help My Fibromyalgia ?
Fibromyalgia is a medical disorder. It is a condition that creates widespread musculoskeletal pain. Fibromyalgia affects approximately every 1 in 25 people in the United Kingdom. Unlike other disorders, this is a long-term chronic illness that can impact a person's life. 
Symptoms
Due to this being a chronic condition, there are many symptoms that people suffer from. Finding out these symptoms early on can help you establish if you have this condition. I try my best to educate others on the symptoms so that they can seek medical help and get a diagnosis early on.
When identifying the condition, medical doctors would look for trigger points. Yet, they now look for pain regions. A doctor will likely ask you if you have persistent dull pain in one or more of these regions of pain. If you tell the doctor that you feel this type of pain, they will consider a fibromyalgia diagnosis. Yet, only if you are experiencing pain in 4 out of the 5 regions identified as part of the diagnostic criteria.
The more awareness there is about this disorder, the more likely it will be that people take notice. If they are aware of, they can take time to discover other treatment options and a potential cure. Below is a shortened list of a few symptoms associated with fibromyalgia.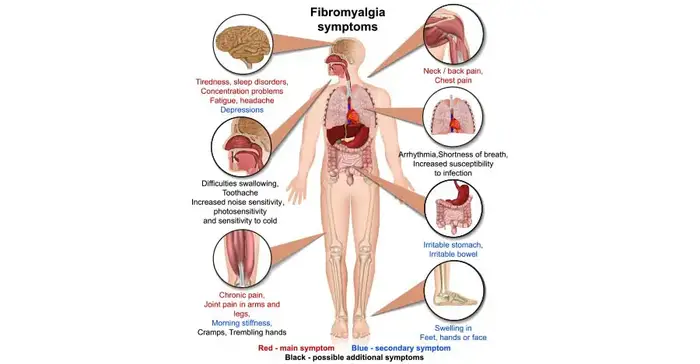 Headaches and migraines.
Insomnia and restless sleep patterns.
Mild to severe muscle pain that includes burning, tightness and twitching.
Extreme and constant fatigue and tiredness.
Widespread pain throughout your musculoskeletal regions of the human body.
Trouble concentrating.
Bladder and bowel problems.
Anxiety and depression.